What is 'Firefox internal server error 500'?
Firefox internal server error 500 is an error that usually occurs when trying to load web pages when using Mozilla Firefox. It may mean that there is something wrong with the website's server. It is also possible that your security software is blocking Firefox or the plug-in process container without informing you. This may occur when changes or updates are detected on your software.
How can you fix 'Firefox internal server error 500'?
Some of the common fixes include:
Disabling third-party application
Clearing recent history
Configuring Windows internet option
Please see our in-depth walk-through solutions below.
1. Disable third-party application
Firefox internal server error 500 may be caused by a third-party application, which is blocking or restricting Mozilla Firefox from accessing the site. It may be an anti-virus, firewall, or some plugin blocking or restricting the site without notice.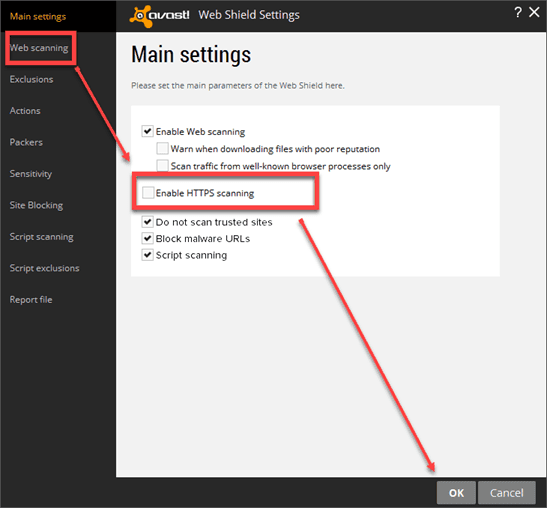 Image Credit: genesismarasigan / ErrorSolutions.tech
To prevent this error from appearing, remove the restriction set by the third-party application such as disabling HTTPS Scanning. You could also, disable or remove the plugin, by following the instructions below.
Another fix is running Windows on a clean boot, to temporarily disable third-party application installed on your Windows. This includes anti-virus, proxy server, and a firewall.
Disable HTTPS Scanning
Open anti-virus/ firewall settings.
Disable HTTPS Scanning.
Disable / Remove Plugin
Open Mozilla Firefox.
Press Shift+CTRL + A keys, to open about:addons page.
Press the Extensions.
Disable or Remove all plugins.
Clean boot
Click Windows Start, type in msconfig and then press Enter key.
In the General tab, press Selective Startup.
Uncheck the Load startup items.
Go to services tab, check Hide all Mircosoft services and then click Disable all.
Click Apply, then click OK and click Restart.
Run Mozilla Firefox again.
2. Clear Recent History
"Firefox internal server error 500" may also be caused by caches or cookies. Clear the cache and cookies from Mozilla Firefox from the sites, which may be causing problems to fix it. Instructions are provided below.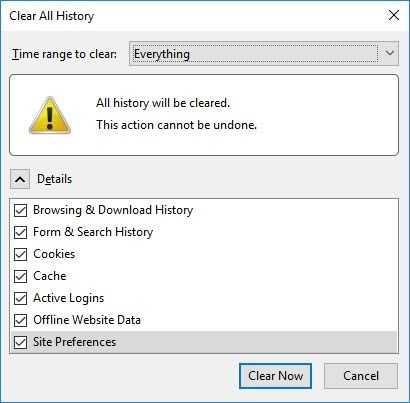 Image Credit: genesismarasigan / ErrorSolutions.tech
Run Mozilla Firefox.
Press Ctrl + Shift + Delete key.
A Clear All History window should prompt.
Time range to clear must be set to "Everything."
Check all checkbox available.
Then click Clear Now button.
Restart Mozilla Firefox and see if the problem is fixed.
3. Configure Windows Internet Option
Windows Internet Options configuration might be causing "Firefox internal server error 500." The internet option might be blocking the site or a proxy is set. Try to configure it to fix the error. Refer to the instructions below or watch it here on YouTube.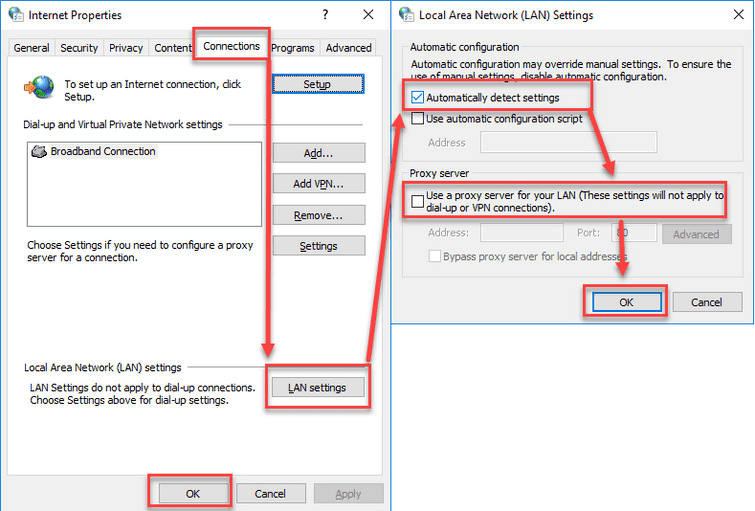 Image Credit: genesismarasigan / ErrorSolutions.tech
Chen click Windows Start, type in Internet Option and then click Enter key.
Go to Connections tab and then click LAN settings.
Then check Automatically detect settings, and then uncheck Use a proxy for your LAN.
Click OK.
Click Security Tab.
Click Sites.
The add the website.
Then click Close.
Optional: Lower the Security level to Medium.
Click Ok.
Try to access the site.