What is Err_internet_disconnected?
Err_internet_disconnected is an error that prevents users from accessing the internet. Users might get the error message saying, "There is no internet connection. Your computer is offline." While the error occurs mostly to users of Google Chrome, it has also been reported by users of Mozilla Firefox.
The error may also manifest as, "err internet disconnected" and "net.err_internet_disconnected."
How can you fix 'Err internet disconnected'?
Some of the common fixes for err_internet_disconnected include:
Checking the internet connection
Disabling the host file
Adding the website to your Trusted Sites
Deleting the browser cache
Please see our in-depth walk-through solutions below.
To confirm if the website server is down, try to connect using your smartphone and use its data connection. If the website is inaccessible, the website server might be down. If you could browse it using the smartphone, your internet connection or your network connection may be the problem. To verify if your connection is down, run a software that needs an internet connectivity, like Skype, and Viber. If you could not connect, your internet might be the caused, call your internet service provider (ISP). If the software runs with internet connectivity, disable your proxy server, firewall, and antivirus temporarily. It may be causing the "Err_internet_disconnected."
Image Credit: genesismarasigan / ErrorSolutions.tech
WindowsSee the video below
https://youtu.be/egPJcZ4M_5g?t=152
For Mac
Use finder, click Go and select Go to Folder.

Type in "/private/etc/hosts" and press Go.

Move the Host File to another folder.

Run Google Chrome access the website if it works.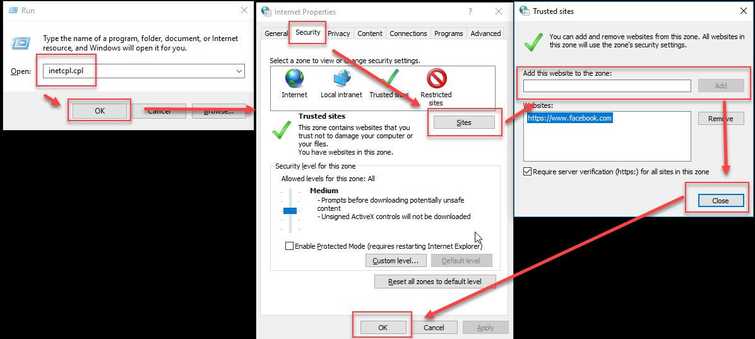 Image Credit: genesismarasigan / ErrorSolutions.tech
Press Windows key + R key then type inetcpl.cpl and press Enter key.img]
In the Internet Properties, click Security Tab.
Click Sites.
Then, add the website.
Then, click Close.
Optional: Lower the Security level to Medium.
Click Ok.
Try to access the site.
4. Delete Browser Cache
"Err_internet_disconnected" could also be caused by a website data in your browser called cache. The cache might be conflicted with the current website update. Detele it, may fix the problem. See the instructions below or watch it here on YouTube.

Image Credit: genesismarasigan / ErrorSolutions.tech
Open a web browser.
Click CTRL + SHIFT +DEL key to open the clear cache web browser application.
Set time range to, All time or From the beginning.
Click Clear.
Try to access the site.