What is 'PS4 error CE-36244-9'?
"PS4 error CE-36244-9" is an error that may occur when the download has been suspended because the content is corrupted.
How can you fix 'PS4 error CE-36244-9'?
Some of the common fixes include:
Configuring the network settings
Checking the internet connection
Please see our in-depth walk-through solutions below.
1. Configure network settings
"PS4 error CE-36244-9" may be caused by your home network configuration. To confirm, try using your mobile phone data as a hotspot. If it successfully lets your PS4 connect, something might be wrong on your Home network. Please set your network configuration to static including your IP address.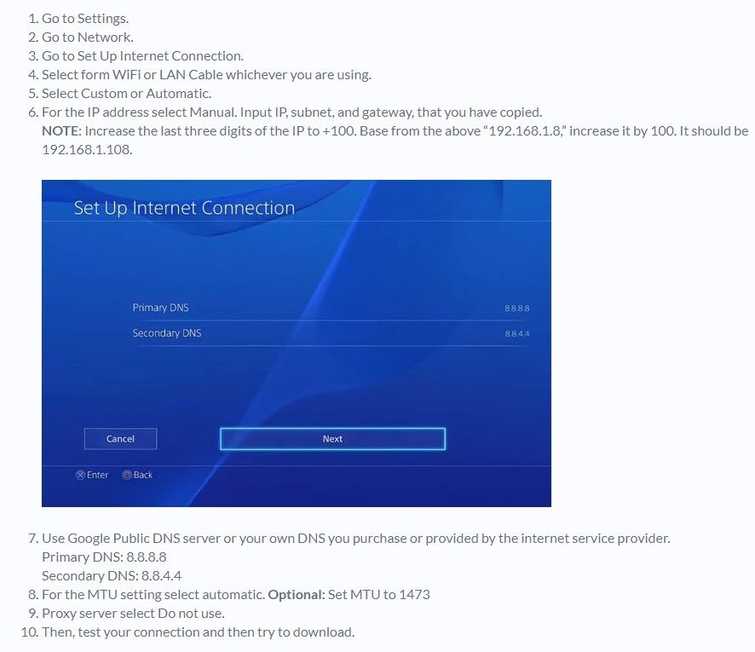 Image Credit: genesismarasigan / ErrorSolutions.tech
Configure PS4 Network Setting
To know the range of your home network IP address, go to "View connection" copy the current IP address. You may also want to increase your IP address' last three digits to avoid conflict with other devices.
To set the PS4 IP address and domain name system (DNS) using the router, watch the YouTube video here.
If the error persists, it is possible the configuration was not applied. Try to turn off both your PS4 and modem router, then unplug them both from the power source for at least three minutes. This would refresh your PS4 connection to the modem and modem to the internet service provider.
2. Check internet connection
"PS4 error CE-36244-9" may also be due to the internet service provider (ISP). To confirm, see the instructions below.
Check if you could connect to the internet using your mobile phone or your computer.
If not, call your ISP. If yes, proceed below.
Check your internet speed by accessing speedtest.net. If it is far from normal, call your ISP.
If you are using WiFi, make sure your PS4 is having a strong WiFi signal or using the ethernet cable.
Check other Home network users if they are using a lot of bandwidth. Let them finish if they are.
If internet connection is stable and good, please re-download update or game.