What is 'PS4 error NW-31456-9'?
"PS4 error NW-31456-9" is an error that usually occurs when the PlayStation is unable to connect to the server within the time limit. This may occur because some routers do not allow external servers to penetrate the internal network where they are seen as a threat. The error may occur as a result of changes Sony made with servers of the PlayStation Network in order to prevent DDOS attacks.
How can you fix 'PS4 error NW-31456-9'?
Some of the common fixes include:
Setting the IP address and Domain Name System to manual
Please see our in-depth walk-through solutions below.
1. Set internet protocol (IP) address and domain name system (DNS) to Manual
"PS4 error NW-31456-9" may appear when your PS4 is blocked by a firewall or your network configuration is not stable. You may want to try other DNS server such as Google Public DNS or call your internet service provider (ISP), if they could provide you with a DNS. Changing your DNS server may bypass firewall setting on your home network. Please see below.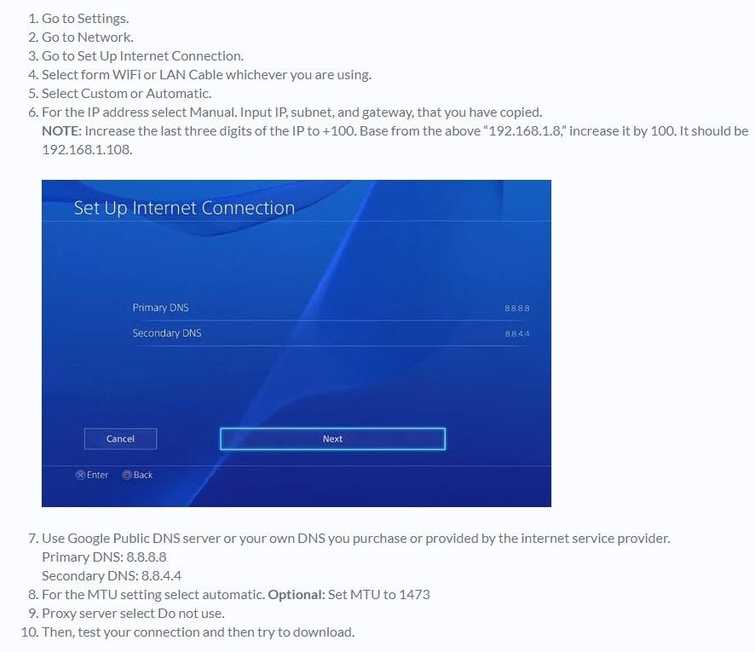 Image Credit: genesismarasigan / ErrorSolutions.tech
Also, since you are accessing PS4 Network Setting, you may want to set your PS4 IP address to static. Doing this could make your connection stable.
To know the range of your home network IP address, go to "View connection" copy the current IP address. You may also want to increase your IP address' last three digits to avoid conflict it with other devices.
To set PS4 IP address and domain name system (DNS) using the router watch this YouTube video here.
If the issue persists, the firewall could be set in your router you are using. You may want to directly connect your PS4 to your modem.