What is Windows Update error 80244o2c?
Windows Update error 80244o2c is an error that usually occurs when you try to install updates but a program in your computer may be preventing Windows Updates Services from accessing the internet. Some programs which are known to do this may include anti-spyware software, anti-virus programs, firewalls, internet security programs, proxy servers, and web accelerators.
The error has been reported on Windows 8, 7, and Vista.
How can you fix Windows Update error 80244o2c?
Some of the solutions to this error include deleting SoftwareDistribution and resetting the proxy settings, and disabling the third-party programs.
Please see our in-depth walk-through solutions below.
1. Delete SoftwareDistribution and reset proxy settings
"Windows Update error 8024402c" could be caused by a damaged Windows Update Component in SoftwareDistribution due to interruption of proxy setting during the download. To fix it, repeat the download of your Windows Update Component while disabling the proxy setting. See instruction below.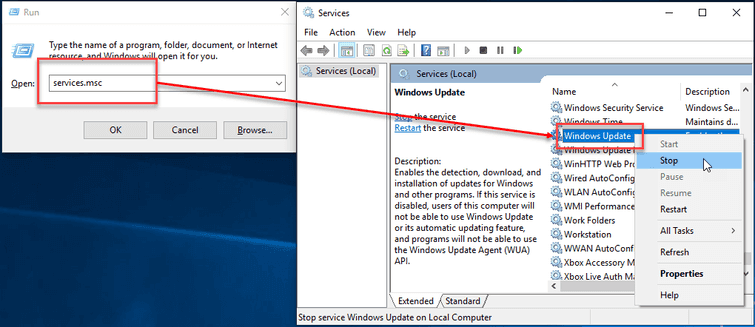 Image Credit: genesismarasigan / ErrorSolutions.tech
Delete SoftwareDistribution
Press Windows Logo key + R.
Copy and paste the word below in the Run text bar and press Enter key
*services.**msc
---
Browser for the "Windows Update" service and then right-click select the Stop.
Open a folder, and then copy and paste the word in the address bar and press Enter key. **C:\Windows\SoftwareDistribution\download
**
Delete all files inside the download folder.
Then start the "Windows Update."
Then restart the PC.
Reset proxy setting
https://youtu.be/egPJcZ4M_5g
2. Disable third-party programs and proxy server
"Windows Update error 8024402c" may also be caused by a third-party. Running in a clean boot to disable the third-party firewall, antivirus, and software may fix the problem. For the instruction refer to the video below.
https://youtu.be/oPcjiPpxaUQ
NOTE: If you succeeded updating just by disabling the third-party firewall or anti-virus, please add the sites below as trusted sites in your settings so you would not need to disable it again every time you update Windows. Check the instructions here on YouTube.
http://.update.microsoft.com*
*https://update.microsoft.com
http://download.windowsupdate.com
3. Use Windows Update Troubleshooter
Windows Update Troubleshooter is a tool from Microsoft use to troubleshoot Windows update error. It is used to diagnose Windows update component and more often it fixes the problem. You may want to use it to fix "Windows Update error 8024402c," please see below or watch it here on YouTube
Go here to download the Windows Update Troubleshooter.
Run the .diagcab file.
Click Advanced and then click Run as administrator.
Click Next. The process would take some time.
](https://www.errorsolutions.tech/wp-content/uploads/2018/10/windows-update-error-code-80244o2c.jpg "RE: Windows Update error code 80244o2c (Win 8, 7 & Vista)")
Click Apply this fix. The process would take some time.
Click Close the troubleshooter.
Restart your PC.