What is 'Xbox One error code 0x8000ffff'?
"Xbox One error code 0x8000ffff" is an error that may occur after running a game or joining a party chat. It could mean that some features are not available due to temporary system maintenance, an unexpected Xbox Live issue, or a network configuration issue. The error may also occur on Xbox 360.
How can you fix 'Xbox One error code 0x8000ffff'?
Some of the common fixes include:
Checking the Xbox Live server
Checking the internet connection
Changing the NAT settings
Please see our in-depth walk-through solutions below.
1. Check Xbox Live server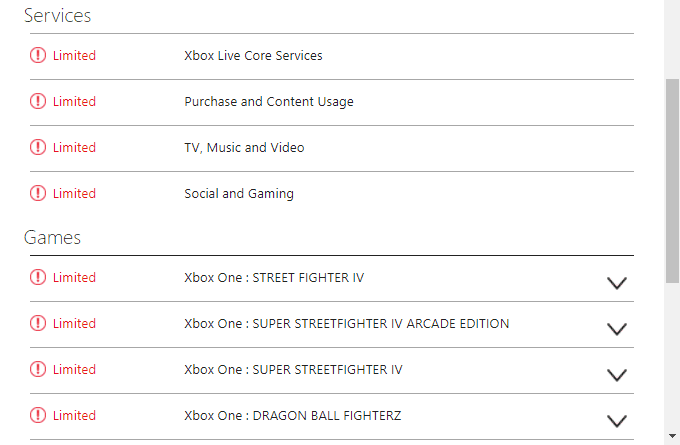 Image Credit: genesismarasigan / ErrorSolutions.tech
If "Xbox One error code 0x8000ffff" occurs, check Xbox Live Core Service status. The server could be overloaded with requests or is under maintenance, which leads to the error. To confirm, see link here. If the server status has a warning, wait for it to be fixed.
2. Check Internet connection
If Xbox Live Core Service is running fine and "Xbox one error code 0x8000FFFF" occurs, it may be due to your internet connection. Your network setting might be having an issue. It could be the network firewall preventing you access to the Xbox Live Core Service server. This could be due to a newly installed router with firewall. To confirm, test your network to verify the issue causing the error.
Check your Xbox One NAT settings. See solution 3.
Do an internet speed test, see speedtest.net. If your internet connection speed is not normal, call the internet service provider (ISP).
If it is fine, turn off your modem router for at least three minutes. Check if it solves the problem.
If the connection is WiFi, make sure your Xbox 360 is receiving enough WiFi signal.
If the connection is ethernet cable, reconnect the cable or try other LAN ports.
If the issue still persists, a router might have a firewall. Connect your Xbox 360 to your modem directly and check if the error is fixed.
3. Change the NAT settings
"Xbox One error code 0x8000FFFF" may also be the result of a Network Address Translation (NAT) type. The NAT type might not be set to Open. This will result in incompatibility with other players in the network. Go to the NAT type settings, and set it to Open.

Image Credit: genesismarasigan / ErrorSolutions.tech
Access Settings.
Then to Network.
Access Test multiplayer connection.
Repeat step 3, until NAT type changes to Open.
4. Sign in using another account
"Xbox One error code 0x8000FFFF" may also appear as a problem when signing your account. This may be caused by a cache store in your console or you might use your account to other Xbox unit. To fix this, try to Sign in using other accounts you have then, sign back in using your original account. Also, applying hard reset your console flush out cache which may fix the problem.