What is 'err_gfx_d3d_init' in GTA 5?
"err_gfx_d3d_init" appears to be an installation error that only occurs on the PC version of Grand Theft Auto. Console users shouldn't be seeing this error. The error causes the game to crash and will persist until it is resolved. It may indicate a problem with the file of the game, which may have occurred during its download.
Users may see the error message, "Failed Installation. Please reboot and restart the game. Try reinstalling the game if possible."
How can you fix 'err_gfx_d3d_init' in GTA 5?
Some of the common fixes include:
Reinstalling the graphics driver using the latest version
Verifying the integrity of the game
Changing the DirectX settings
Disabling third-party software
Reinstalling GTA 5
Please see our in-depth walk-through solutions below.
1. Reinstall the graphics driver using the latest version
"err_gfx_d3d_init GTA 5 error" could be caused by the graphics card software. When installing a graphics card driver, it includes other software. This software might be auto-optimizing your Grand Theft Auto causing the error.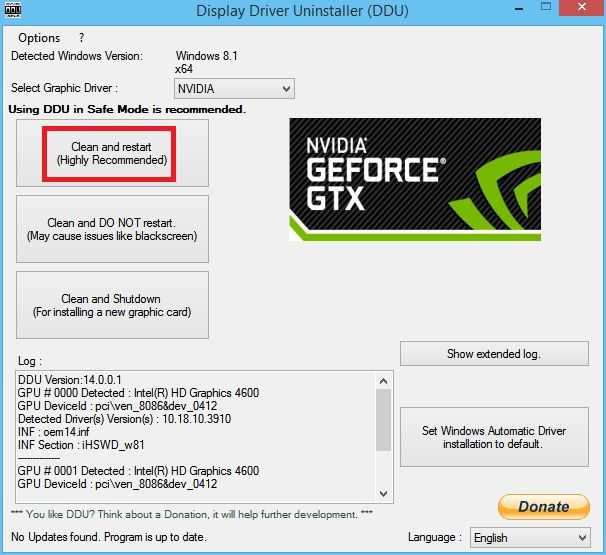 Image Credit: genesismarasigan / ErrorSolutions.tech
It could also be due to your graphics card driver version. If your driver is out of date, it could be incompatible with the latest version of GTA 5. The Microsoft Visual C++ and DirectX that is included in the driver installation could also be out of date. Try to reinstall your graphics card, using the latest driver version in custom install. See the instructions below.
Download and unzip the Display Driver Uninstaller, please see link http://www.guru3d.com/files-details/display-driver-uninstaller-download.html.
Then, access Safe mode.
Windows 7: Restart your computer then continuously press the F8 key to access Safe mode. When Safe Mode appears select it.
Windows 10: Hold Shift key, then restart your computer using the power button in Windows Start.
Run Display Driver Uninstaller.
Select Clean and restart.
When it is finished, your PC will restart.
After the restart, install the latest driver for your graphics card.
Select Custom install.
Uncheck all software that is included.
Wait until it requests a restart and then confirm the restart.
Try to play the game.
2. Verify the integrity of the game
Your GTA 5 files might be damaged causing "err_gfx_d3d_init GTA 5 error." Try to scan the game files to download or repair missing or damaged files. To do this, see the instructions below.
GTA 5 Steam version
Right-click the GTA 5 in the "Library" tab.
Click "Properties".
Click the "Local Files" tab.
Click "Verify integrity of game cache…"
GTA 5 Standalone version
Option 1: Click Windows Start, type CMD, and press Enter key.
Option 2: Press Windows logo key + R key then type CMD and press Enter key.
In the Command prompt type cd c:\Program Files\Rockstar Games\Grand Theft Auto V and press Enter key.
Note: If it is installed in a different directory please change it.
Type GTAVLauncher.exe -verify and press Enter key.
3. Change the DirectX settings
GTA 5 is a DirectX 11 game and is compatible with DirectX 10. If you are running a graphics card that is not compatible with DirectX 11, you might encounter the error "err_gfx_d3d_init GTA 5 error." If you could access the game setting, change it to DirectX 10 or 10.1. If you could not access the setting of the game, see the instructions below on how to change it,
Open a Notepad.
Type -DX10.
Click Save As, and named it as commandline.txt
Save the commandline.txt file in C:\Program files\Rockstar Games\Grand theft auto V.
Run the game.
4. Disable Third-party Software
"err_gfx_d3d_init GTA 5" might also be due to a third-party software. It could be caused by an anti-virus, graphics card overclocking tool or benchmark tool such as Fraps. Try to disable the software temporarily and see if the game runs smoothly.
In addition, restore the graphics card settings in the graphics card overclocking tool. Your overclock settings might be crashing the game.
If the above solutions do not work and "err_gfx_d3d_init error" still persists, try to reinstall your GTA 5. The game might have been damaged, which cannot be repaired by Solution 2. To uninstall it, go to Control panel then Uninstall a program.