What is Netflix error 1007?
Netflix error 1007 is an error that is usually caused by a corrupted or incomplete installation of Netflix software.
How can you fix Netflix error 1007?
Some of the solutions to this error include restarting your device, checking your internet connection, and reinstalling Netflix.
Please see our in-depth walk-through solutions below.
1. Restart your iPhone, iPad, or iPod touch
Turn off your device and unplug it for at least 1 to 3 minutes. This method deletes Netflix and iDevice caches stored, which may be causing Netflix error 1007. It also lets your device reconnect to the modem.
Press and hold the Power button till the red slider appears.
Swipe the slider to turn the device completely off.
After 15 seconds, press the Power button to turn on your device.
Try Netflix again.
2. Check Internet Connection
Netflix error 1007 is sometimes caused by security policies of the internet service provider (ISP) or the network configuration where you are connected. These security policies are the firewall, parental control, proxy server and bandwidth limiter. These security policies may block your communication with Netflix server.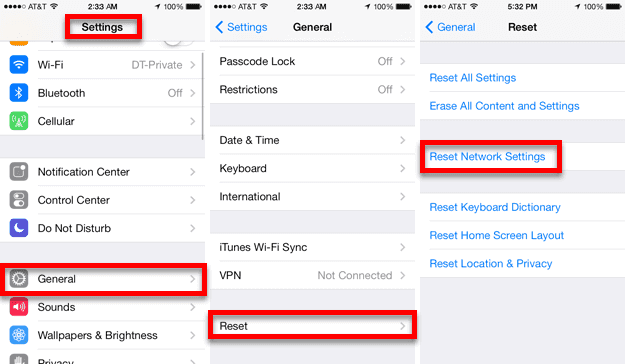 Image Credit: genesismarasigan / ErrorSolutions.tech
If you're connected to a private network such as school and office, ask for an assistant to the IT administrator. If you are on a home network, you may want to disable it, or as for a help to the person who set up your home network. Regarding the ISP, call them if they are blocking streaming application such as Netflix.
If you are using a home network and you're not using any firewall or any network policies, test your internet speed. Visit speedtet.net to check your internet speed. if your speed is very far from the normal speed, call your ISP they may have a service issue. If your speed is normal, someone in your home network might be downloading or uploading a large file size, let them finish and try again.
If all the above fails, restart your modem router, it may be desynchronizing with your ISP.
If you're using internet data connection, you may want to look for a strong signal. If it does not work, try Reset Network Setting, please see below.
Go to Settings > General > Reset > Reset Network Settings**.**
Enter your password.
Press Reset network setting in red font.
The phone will automatically reset.
NOTE: If you could access Netflix using other devices, please skip this solution.
3. Reinstall Netflix
If Netflix error 1007 occurs after an iPhone update, you might want to reinstall your Netflix. Also, if you update your iDevice using a new release of iOS, you may want to wait for Netflix to have a new update. The reason is, the version of the Netflix might not be compatible with the new iOS version.
Another thing is that if you could not update your Netflix or your Netflix is corrupted, try reinstalling it and itt may fix the problem.
Uninstall Netflix.
Run the App Store, search for "Netflix" and select the free Netflix app from Netflix, Inc.
Click the cloud icon, then enter your iTunes password to download and install the app.
After the installation, click the Netflix icon.
Enter the email and password to log in to your Netflix account.
Try Netflix again.