What is 'Windows error code 32'?
Windows error code 32 is an error that usually occurs when the start type for the hardware device's driver is disabled in the registry. The error applies to any hardware device on Device Managers but mostly on optical drives like CD, DVD, and blu-ray drives. Any of Microsoft's operating systems may experience the error.
You may see the error message, "A driver (service) for this device has been disabled. An alternate driver may be providing this functionality. (Code 32)"
How can you fix 'Windows error code 32'?
Some of the common fixes include:
Installing or updating the driver
Checking the hardware
Please see our in-depth walk-through solutions below.
1. Install or Update Driver
Windows error code 32 may be caused by a missing hardware driver, a driver not compatible with the Windows version, or a corrupt driver. To fix this, in the Device Manager right-click the hardware that as error code 32, then select update driver and then select Search automatically for updated driver software. Windows will automatically check for available hardware on the internet. Therefore, the PC must be online. If Windows able to found a compatible driver it will automatically install it. However, if it does not find a driver that is compatible with the system, installing the driver manually.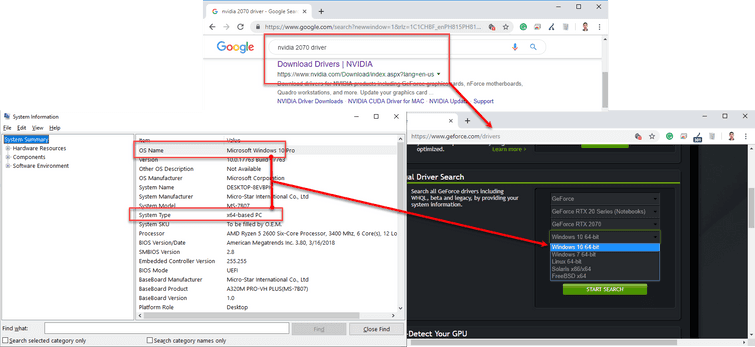 Image Credit: genesismarasigan / ErrorSolutions.tech
To install the driver manually first, uninstall the driver that has an error code 32 in the Device manager. Then download the correct. To determine if you are downloading the correct driver, know the hardware exact model first and then know your Windows version. To check Windows, click Windows start logo then type System Information and press Enter key. You should have access to System Information, check your OS Name and System Type and match the driver that you will search and download. To search a driver, type the exact model + driver in the search bar of a search engine. See the example below.
If the hardware model is unknown
Right-click the Unknown driver in the Device Manager.
Select Properties.
In the Details tab, change the Property to Hardware Ids.
Copy the hardware Value to the Web Browser search bar.
Then check for driver results.
2. Check Hardware
Windows error code 32 may be caused by the hardware such as a printer, graphics card and WiFi adaptor, which the driver is for. The hardware might be semi-detach or is defective. Try to reconnect the hardware.
If the issue persists, look for another computer. Connect your hardware, then try to install the driver. After the driver installation, use it. If it works fine, the USB port or the PCI-e slot could be defective. If the hardware still gets the error, send your hardware to a service center for warranty or repair.