What is Err name not resolved?
"Err name not resolved" is an error that sometimes occurs on Google Chrome when you try to log on a website and the error message pops up, informing you the web page is not available.
How can you fix Err name not resolved?
Some of the solutions to this error include clearing the cache, setting your network configuration, running Windows in a clean boot, and checking your modem router.
Users who have a similar error will sometimes see a different message however these are all the same error:
%sname_not_resolved , -105
error -105 (name_not_resolved)
error -105 (name_not_resolved)the host name could not be resolved.
name_not_resolved -105
Please see our in-depth walk-through of complete solutions below.
1. Clear DNS cache
"Err name not resolved" may occur due to previous data stored in Google Chrome. Clearing the cache may fix the error. Please check the instructions below on how to or watch it here on Youtube.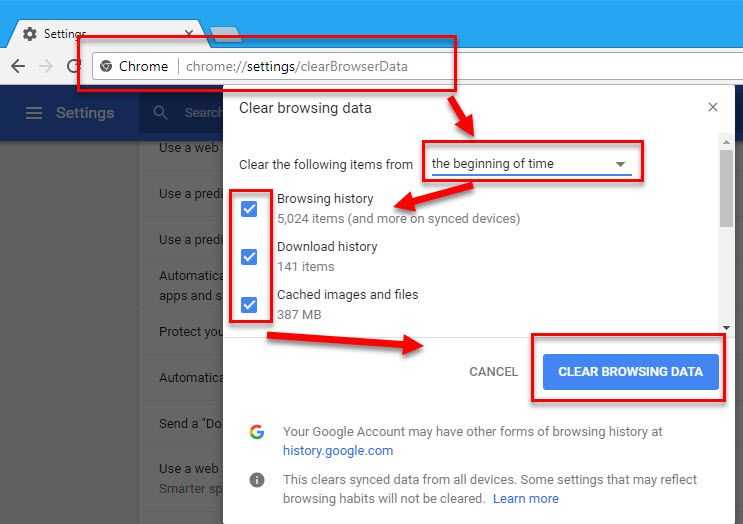 Image Credit: genesismarasigan / ErrorSolutions.tech
Clearing your cache is is away to flush or reset the stored variables that might be corrupted or out of date:
In Google Chrome address/search bar, type in chrome://settings/clearBrowserData.
In "Clear the following items from", select "the beginning of time."
Check all checkbox below" Clear the following items from."
Then, click "Clear Browsing Data."
2. Set your Network configuration
"Err name not resolved" may also occur due to a misconfigured domain name system (DNS) setting. Please refresh it or configure it manually, and that may fix the error. Please see below.
Option 1. Flash and renew DNS
Watch the video below to reset the DNS if the problem is caused by a misconfigured setting. The commands are provided below.
ipconfig /flushdns
ipconfig /renew
ipconfig /registerdns
https://youtu.be/XtdbT7qkkOA
Option 2. Configure DNS
Configuring your DNS address might resolve the problem especially if you set DNS server to 8.8.8.8 and 8.8.4.4. See the instructions video below.
https://youtu.be/TjlOVnMNzMs
3. Run Windows in a Clean boot
"Err name not resolved" may also occur if are running a software, which configures your network configuration automatically. Third-Party software may also cause the error. Running Windows in a Clean boot will disable all third-party software. Please follow the instructions below in the video.
4. Check your modem router
"Err name not resolved" may also occur if your network configuration is set to default. Your network hardware may be the cause of the problem. Please restart your PC, and unplug your modem router for at least three minutes to rule out a desynchronized connection between your computer and the network hardware.
Connect your device directly to your modem (if using a modem and router separately)
Connect the Ethernet cable to the modem or connect directly using WiFi.
Wifi: Check if you have a good signal. If not, transfer the device or the modem and router closer to each other.
Ethernet cable: Check if the cable is in good condition. Test by using a spare or borrow an Ethernet cable.
Try using Chrome again.
**NOTE:**If all of the above does not work, call your Internet service provider. They might be the cause of the problem or the modem they provided is broken.
What does it mean when it says err name not resolved?
The browser you are using is unable to find and show the website URL that you are looking for. This can happen when you are disconnected from the Domain Name Server DNS. The DNS is like a giant master directory that translates websites to the ipaddress of the actual server that has the content or app running the website. The easiest fixes include refreshing or updating your DNS connection.
How to fix err not resolved on Android?
When an Android device gets the error not resolved it is similar to any other device connected to the internet that uses a DNS to loop the website URL. You can fix err not resolved by updating your DNS server on that device.
How to fix err not resolved on a smart tv?
Smart TVs have the ability to connect to websites and apps over the internet however when the TV cannot find the website it might give the error not resolved issue which can be fixed by updating your DNS settings or by rebooting the TV.
What causes a DNS error?
DNS failure is can happen on your device or anywhere in the network between your device and the website. If your device is correctly configured then the issue is possibly due to router or modem problems or your internet service provider may have an outage.