What is NTFS_File_System error Windows 10?
NTFS_File_System error Windows 10 is a Blue Screen of Death error that is usually caused by corrupted disks or hard drive drivers.
How can you fix NTFS_File_System error Windows 10?
Some of the solutions to this error include reconnecting the hard disk drive (HDD) or solid state drive (SSD), recovering the master boot record (MBR), testing the HDD os SSD for defects, replacing HDD or SSD and installing Windows.
Please see our in-depth walk-through solutions below.
1. Reconnect Hard disk drive (HDD) or Solid state drive (SSD)
NTFS_File_System error in Windows 10 is usually caused by undetected HDD or SDD. It could also be caused by misconfigured BIOS setting. Please reconnect the HDD or SSD cable, then check BIOS if it is booting to your primary disk drive. An instruction below is provided.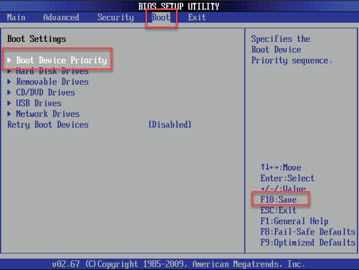 Image Credit: genesismarasigan / ErrorSolutions.tech
NOTE: Primary disk drive is the HDD or SDD, where the Windows is installed.
Reconnect HDD or SSD to the motherboard.
Turn on the computer.
NOTE: Try to listen to the HDD. If you hear noise, check Solution 3.
Press Del to access BIOS.
Go to Boot tab, select Boot device priority and select your Primary disk drive.
NOTE: If the primary disk is not detected by the BIOS, consider the HDD or SDD defective.
Press F10 and save.
If disk read error occurs, repair Master Boot Record (MBR). Please see Solution 2.
2. Test Hard disk drive (HDD) or Solid state drive (SSD)
NTFS_File_System error in Windows 10 could also be caused by a faulty HDD or SSD. You may want to test it for defects.
For HDD
NOTE: You can remove the Hard disk drive then connect it to a working computer and install/use HDTune to test it.
For SSD
Let your computer idle for six to eight hours inside the BIOS. SDD has a controller, which transfer files from a damaged sector to a good sector. However, it requires power and it should be idle. If this fails, try to reinstall Windows 10 using the guide in solution 4. However, if you encounter an error in the installation process, this concludes that the SSD is defective.
If this fail, look for a working PC, connect the SSD, download SSDLife here. Test the SSD using it and see if it is defective.
Reinstall Windows
If the HDD/SDD was found defective, replace it. If it is in good condition, reinstall Windows.
https://youtu.be/lunM4WOM97U