What is 'Windows error code 64'?
Windows error code 64 is an error that usually occurs when accessing a network resource, like a file server that may no longer be online or not responding. It may indicate that a network source is not connected to the network or that both the hardware and software is not responsive.
You may see the error message, "ERROR_NETNAME_DELETED 64 (0x40) The specified network name is no longer available."
How can you fix 'Windows error code 64'?
Some of the common fixes include:
Turning on network sharing
Ensuring that the drive or folder is shared and that the path name is correct
Resetting TCP/ IP stack
Please see our in-depth walk-through solutions below.
1. Turn on network sharing
Windows error code 64 may be caused by disabling the Network and Sharing setting. Enabling Network and Sharing setting may fix the error code 64. However, you must be signed in as an administrator to be able to turn network discovery on or off. Please see the link to access administrator: here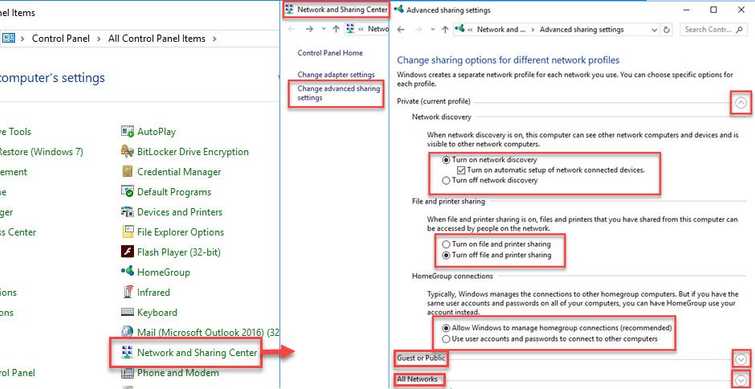 Image Credit: genesismarasigan / ErrorSolutions.tech
In the Control Panel, access Network and Sharing.

Then in the Network and Sharing, access Change advanced sharing setting.

Then enable the following
Turn on network discovery
Turn on file and printer sharing
Allow Windows to manage connection (recommended)

Then click the Save change.

Image Credit: genesismarasigan / ErrorSolutions.tech
To share a Drive or a Folder, and check network pathname, please see below.
Right-click the folder that you would like to be shared with the network.

Go to Properties, then Sharing tab, and then the Advanced Sharing.

Enable Share this Folder.

Then press Applyand then press OK.

Take note of the network path name.

Go to the other PC, that requires to access that file

Open a Files explore, in the address bar enter the network path.
\hostname\sharename

Image Credit: genesismarasigan / ErrorSolutions.tech
Click Windows Start, type in CMD and right-click on Command Prompt select Run as Admin.

Input the following commands below and then press Enter key for each command.
ipconfig /flushdns**nbtstat -RRnetsh int ipnetsh winsock reset

Restart your computer,

See if Windows error code 64 was fixed.