What is Xbox One error code 0x80072ee2?
Xbox One error code 0x80072ee2 is an error that usually occurs when downloading a content from Xbox Live. This means the network connection between the console and the servers are slow. The error may also appear as "Some Xbox Live content is temporarily unavailable. You can still access your profile, communicate with other players, and play games online."
How can you fix Xbox One error code 0x80072ee2?
Some of the solutions to this error include checking Xbox Live Status and checking your internet connection.
Please see our in-depth walk-through solutions below.
1. Check Xbox Live Status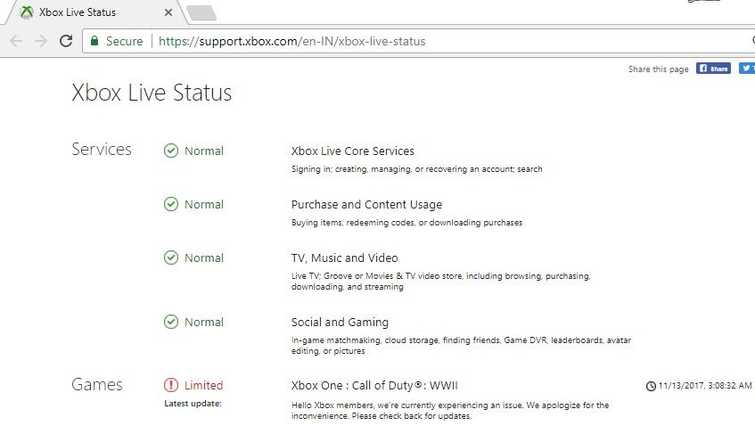 Image Credit: genesismarasigan / ErrorSolutions.tech
Xbox One error code 0x80072ee2 may appear when Xbox live core services server or other services server is having a problem. You may want to check https://support.xbox.com/en-IN/xbox-live-status for the status of the Xbox services. Please proceed below if the services are normal. Otherwise, you may check again later.
2. Check Internet Connection
Xbox One error code 0x80072ee2 may occur when your internet connection has a problem. It could be slow, intermittent or a network problem. To verify this problem please see below.
If in WiFi mode, look for a better signal or use the wired connection.
Check internet speed, visit speedtest.net. If speed is far from normal, call your internet service provider (ISP).
If internet speed is normal, turn off your Xbox One, then unplug both your modem router and Xbox One for at least three minutes.
Turn off firewall or security policies such as parental control and bandwidth limiter. Policies could be on your router or in your ISP account. Call your ISP if it is set on your account. If the policies are set in the modem or router, please disable it or configure it to allow your Xbox to bypass the policies. If you have a firewall, directly connect your Xbox to the modem.
Check your home network if someone is using a large amount of bandwidth. Let them finish then proceed in your download. Night time is the most suitable time to download a large file, because of less user and network traffic.