What is iPhone error 40?
iPhone error 40 is an error that usually occurs when you're trying to restore your phone via iTunes. This error indicates that there is a hardware issue.
How can you fix iPhone error 40?
Some of the solutions to this error include testing your iPhone hardware and using Sn0wbreeze.
Please see our in-depth walk-through solutions below.
1. Test your iPhone Hardware
If your iPhone screen has no display but the backlight is still functioning, it is usually a sign that your iPhone could not boot. When you attempt to restore it in iTunes, iPhone error 40 may occur. This problem could be caused by a damaged firmware or a damage NAND chip (storage device). Please, try to restore your device by using Device Firmware Update (DFU) reinstall the firmware.

Image Credit: genesismarasigan / ErrorSolutions.tech
Restore the device using Device Firmware Update Mode
Run iTunes, then plug in your iPhone, iPod touch, or iPad to your computer using the bundled USB cable or a high-speed USB cable.
Next, press and hold the home button and power button at the same time for 10 seconds.
Release only the power button after 10 seconds but keep hold the home button for additional five seconds.
Wait for the message, "iTunes has detected an iPhone in recovery mode" to appear on your computer's iTunes.
Click "OK" to restore your phone, wait for the process to finish.
If DFU is not successful bring your phone to an Apple service center for warranty. If it is out of warranty, please bring it to a mobile phone repair shop that could repair a chip-level problem.
NOTE: If your iPhone has undergone a jailbreak, please check Solution 2.
2. Use Sn0wbreeze
iPhone error 40 may also be related to an iPhone that has undergone custom firmware. To fix the problem, download and use the latest version of Sn0wbreeze.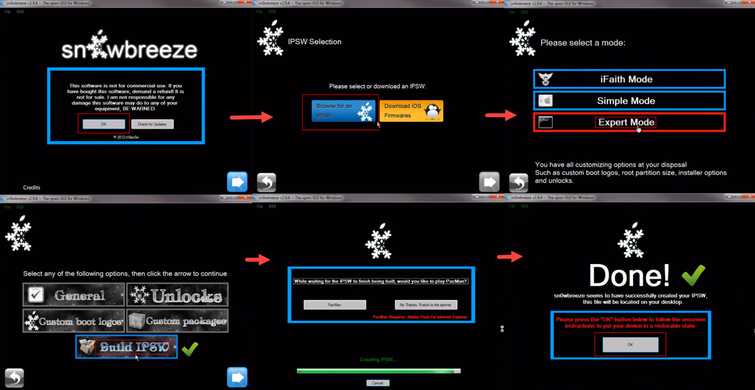 Image Credit: genesismarasigan / ErrorSolutions.tech
NOTE: This is not recommended by Apple, use it at your own risk.
Connect your iPhone and enter DFU mode.
Download the IPSW firmware you want to install.
Then follow the image below.