Unexpected store exception Windows 10
What is Unexpected store exception Windows 10?
Unexpected store exception Windows 10 is an error that usually occurs after updating from previous versions of Windows 10 and is usually accompanied by the blue screen of death.
How can you fix Unexpected store exception Windows 10?
Some of the solutions to this error include disabling a third-party application, updating Windows 10, and uninstalling the driver.
Please see our in-depth walk-through solutions below.
Solution 1. Disable Third-party Application
"Unexpected store exception in Windows 10" may be due to a third-party software. Try to set your Windows running in a clean boot so third party software will not run on Windows startup. See instructions below or watch this YouTube video here "how to run Windows in clean boot."
Click Windows Start, type in msconfig and then press Enter.

At the General tab, select Selective start-up.
Uncheck the Load startup items.
Go to services tab, check Hide all Mircosoft services and then click Disable all.
Click Apply, then click OK and click Restart.
There is a chance that the third-party application that causes the error could be related to a malware contamination on your Windows files.  Running a full scan of your computer using antivirus software might help.
NOTE: You may use third-party anti-virus.
Update and run Windows Defender.

Do a full scan to eliminate Malware.
Run the application.
Solution 2. Update Windows 10
"Unexpected store exception Windows 10" may also occur if Windows 10 is out of date. Try to check for an update to fix the problem. To check for Windows Update, click Windows Start then type in Check for Updates and press Enter key.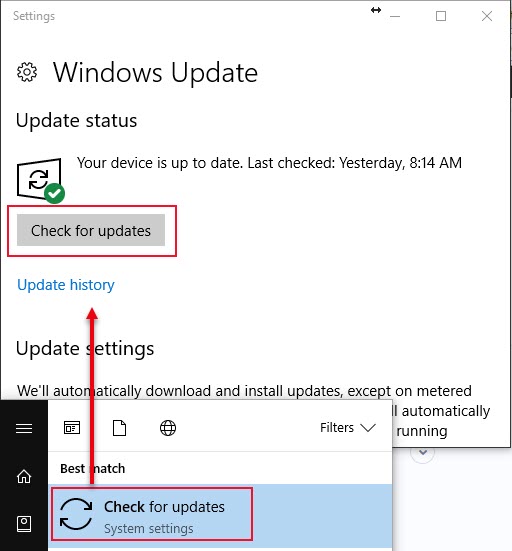 Solution 3. Uninstall the Driver or the recent installed Windows update
If "Unexpected store exception Windows 10" appears after you install or update a driver, please uninstall it. To uninstall a driver, running Windows in Safe mode is recommended. In Safe mode, hardware drivers are disabled which will effectively uninstall and delete all driver files, registry and .dll. To access Safe mode see guide below or watch the link here for a YouTube video on "How to uninstall a driver."
Insert the Windows 10 installation CD/DVD or USB.
A message will appear "Press any key to boot from CD or DVD", press any key to boot from the Windows installation CD/DVD or USB.
Select your language, time and keyboard, and click Next.
Click Repair your computer.

Click Troubleshoot ==> Advance Option ==>Start up Setting ==> Restart.

Select either from number 4, 5 and 6 to enter safe mode. 

NOTE: If you can access Safe mode please proceed to the next solution.

Now go to the Control Panel and select Uninstall program.
Look for the newly installed driver that caused the BSOD and uninstall it.
Restart your computer.
Here is a video demo on YouTube where Windows update was uninstall using Safe mode.
NOTE: Due to BSOD restart, your Windows 10 will direct you to Automatic repair window. To access Advance option, you may skip steps 1 to 4. You could also hard press the power button on the computer until you access Automatic repair.  (Note that this is not advisable because it could damage your hardware.)