Windows 7 blue screen on startup
Windows 7 blue screen on startup is when Windows encounters certain situations, it halts and the resulting diagnostic information is displayed in white text on a blue screen.
Solution 1. Use System Recovery Options
"Windows 7 blue screen on startup" could be caused by Windows boot files. To fix the problem, access System Recovery Options and use all available tools.
Option 1. To access System Recovery Options.
Restart the computer
Press F8 retentively before Windows logo appears.
Advanced Boot Options will appear.

Select Repair your computer and press Enter key.
Option 2. For Windows version without System Recovery Options
Note: Some Windows version will not automatically install System Recovery Option. Use the Window installation CD/DVD or USB to access System Recovery Option.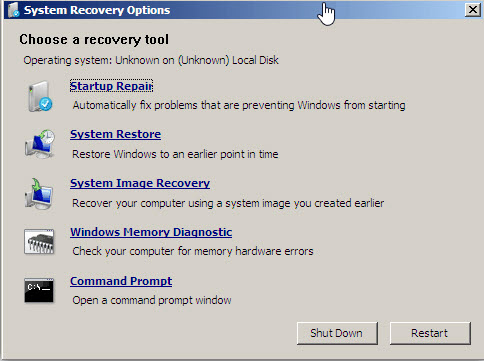 Insert the Window installation CD/DVD or USB.
A message will appear "Press any key to boot from CD or DVD…", press any key to boot from the Window installation CD/DVD or USB.
An Install Windows will appear select your language, time and keyboard, and click next. 

Click Repair your computer.
System Recovery Options will appear.
Select from Startup Repair, System Restore (if you or Windows have created a restoration point), or  System Image Recovery (If you created a Windows image). For the Windows Memory Diagnostic Tool and Command Prompt, please refer to solution 2.
Startup Repair. Automatically fix problems that are preventing Windows from starting. (Windows will automatically check your SDD or Hard drive and attempts to fix the problem)
System Restore. Restore Windows to an earlier point in time. (If you have created a restore point before encountering BSOD on startup use this)
Complete PC Restore or System Image Recovery. Recover your computer using a system image you created. (Use this to recover your image you created)
Windows Memory Diagnostic Tool. Check your computer for memory hardware error. (See Solution 2)
Command Prompt. Open a command prompt window. (Allow you to access your file and run Command Prompt command.) (See Solution2)
Solution 2. Testing hardware
"Windows 7 blue screen on startup" may be caused by a faulty hardware. To confirm, please test your hardware.
Some Motherboard BIOS have it own Hardware diagnostic test run it. After the diagnosis, bios will report error encounter to a particular part. Example "HDD  Smart status bad" for HDD. 
Clean motherboard and reset motherboard bios. For advance user only: Update motherboard BIOS. 
Reconnect all cable including Power supply and SATA Cable. 
Clean CPU Fan. 
Removed RAM / Memory, clean the RAM gold pin by an eraser and re-seat RAM. 
Check HDD for noise, reconnect HDD if no noise found, if yes replace HDD. For SSD user, reconnect cables only. 
Remove all components that are connected to the PCI-E and USB port and boot Windows. If Windows proceeds to desktop and did not encounter any BSOD, the added components might be the cause.
Connect component one by one. If BSOD upon startup encounter on the newly connected component, try to remove it back and boot Windows again. If Windows boot up, try to connect the component back to confirm BSOD upon startup. If BSOD encounter component is the cause and it is defective or not compatible.
In some case, the driver of the component might be incompatible with the Windows or driver is corrupted. 
Test all Motherboard RAM slot if defective.
Test RAM / Memory
You can use Windows Memory Diagnostic Tool to (see solution 1) to test RAM
Multiple RAM 
Try and test 1 pc RAM at a time, re-seat on the same Motherboard RAM slot.  If 1 of the RAM test good, or did not encounter any BSOD upon testing, while the other one did, declare RAM with BSOD encounter as defective. Repeat procedure to confirm.
If all RAM encounter BSOD on startup try new RAM slot. If no BSOD encounter in the different RAM slot, repeat test to confirm if mother RAM slot is defective.
Test Hard Disk Drive (HDD)
Performing Check disk in Command prompt. Diagnose your HDD or for any error.
Click Command Prompt.
A Command Prompt window will appear.
Type in chkdsk  /r. 

Wait until it is done.
Windows will tell you if an error is detected or not. 
Consider HDD for replacement if the error is detected.
Note: If a component is defective, request for a warranty claim, if it is still valid, else you need to buy a new one.
Multiple HDD 
Install new Windows to an available HDD/SSD.
Run Check Disk in the Command Prompt. Please refer to solution 1. 
If Check Disk encounters an error, such as bad sector, consider it as a defective HDD.
If all device are tested good, consider reinstalling Windows to your primary Hard drive or SSD or use System Recovery Options, Please refer to Solution 1.
Test Video card / Graphics Card
"Windows 7 blue screen on startup" caused by a faulty video card or video driver. Example with an error code "0x000000EA" and the name "THREAD_STUCK_IN_DEVICE_DRIVER" can be caused by defective video card or video card driver.
To repair video card driver error. Remove the video card uninstall the driver and shut down (better boot to safe mode). Connect the video card, run Windows 7 and install the latest driver compatible with Windows 7.
If video card driver is not the caused, you might set the overclocking software to overclock upon startup. So, enter safe mode and uninstall overclocking software such as MSI afterburn and Sapphire TRIXX.
If the video card is the cause, you might see an irregularity in the display, such as stuck/hang display, flicker display, and garbage display.
You may update video card firmware. However, it can be risky.  It is better to warranty your video card.
Solution 3. Uninstall corrupt driver
"Windows 7 blue screen on startup" could be caused by a driver problem. Example of Blue screen of death related to a driver is error code "0x000000D1" named "DRIVER_IRQL_NOT_LESS_THAN_OR_EQUAL_TO" can be caused by a newly installed driver. The driver might be corrupted or incompatible with the Windows 7. To solve this error, try booting Windows 7 into Safe Mode and uninstall the driver.
Restart the computer
Press F8 retentively before Windows logo appears.
Advanced Boot Options will appear.

Select Safe mode and press Enter key.
Click start and then click control panel.
Select Uninstall Program. 
Uninstall the driver.