What is error message 'ntoskrnl.exe BSOD' in Windows 7?
Ntoskrnl.exe BSOD in Windows 7 is a system crash error that usually occurs when the kernel of the operating system, ntoskrnl.exe, is missing. Without it, the operating system won't work. If the file is faulty, the computer is likely to experience frequent Blue Screens of Death (BSOD) and many other problems.
How can you fix 'ntoskrnl.exe BSOD'?
Some of the solutions to this error include:
Testing the random access memory
Uninstalling the drivers
Disabling the overclocking settings
Please see our in-depth walk-through solutions below.
1. Text Random Access Memory (RAM)
"Ntoskrnl.exe BSOD" in Windows 7 may be caused by your RAM. If the Blue screen of death displays memory management, your RAM could be faulty. A series of tests in this link here might help you.
2. Uninstall the Drivers
"Ntoskrnl.exe BSOD" in Windows 7 may also be caused by a corrupt or incompatible driver. Try to run your Windows 7 in Safe Mode. If the error does not occur while in safe mode, it is possible it was caused by a driver problem. While in Safe Mode try to uninstall all driver that has been installed, and then restart. Then, download and install the latest driver that is compatible with Windows 7.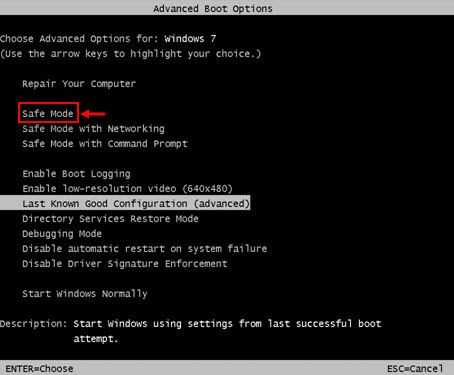 Image Credit: genesismarasigan / ErrorSolutions.tech
To Access Windows 7 Safe mode, watch this YouTube video here or see instructions below
Restart your computer.
After BIOS boot up, continuously press F8 key.
In Advance Option window, select Safe Mode.
3. Disable Overlocking settings
Your overclock setting might be causing the "toskrnl.exe BSOD" in Windows 7. It could be caused by too much overclocking causing too much heat. Or, the overclock setting is too much for the hardware to process, and the overclock settings was misconfigured. Try to set it back to normal.
If the overclock setting was fine for a few months, the cause may also be the heat. Your computer may need a general cleaning or your computer fan is not working. Please check your computer hardware, it could be the cause.