Xbox 360 Error code 445e is an error that may occur when you are having issues with your network connection.
1. Do a System rollback
"Xbox 360 Error code 445e" is a result of a failed update. Try to do firmware rollback on your Xbox 360 and let it do a system update after the rollback. See the process below, on how to.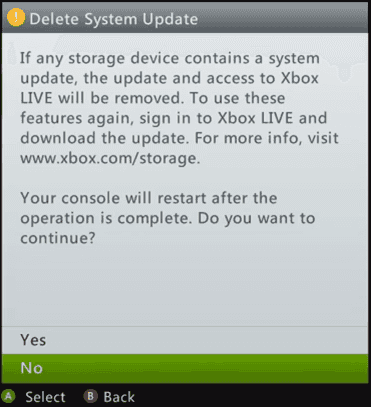 Image Credit: genesismarasigan / ErrorSolutions.tech
NOTE: Make sure your Xbox 360 has at least 256 MB of free space and a stable internet connection.
Press the Guide button on your controller.
Go to **Settings >>**System >> Storage.
Then press the following button in order: LB, RB, X, LB, RB, X.
Select Yes, to confirm for rollback.
Xbox 360 will restart and should download the updates.
See if the error still exists.
2. Clear the System Cache
"Xbox 360 Error code 445e" failed update, might be due to a cache problem which may be interrupting the system update. Try to clear the cache and repeat the solution 1 above. To clear the cache, see steps below.

Image Credit: genesismarasigan / ErrorSolutions.tech
Click the Guide button on the controller.
Navigate to Settings >> System Settings.
Select Memory or Storage.
Highlight any of the storage, and press Y on the controller.
Select Clear System Cache and then select Yes to confirm.
Turn off your Xbox 360 and unplug it for at least three minutes.
Repeat the System rollback